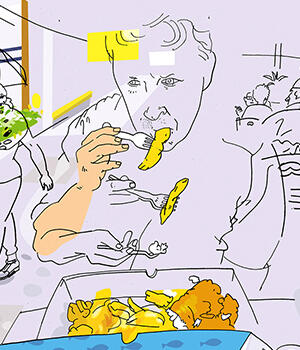 Andrew Humphreys
Andrew Humphreys read a lot of Tintin as a young boy and it had a lasting effect.
He became a journalist and writer, and went off to live and work in Cairo, Tallinn, Beijing, Mumbai, Melbourne, and a bunch of other places.
He has written more than 20 guidebooks to destinations including Siberia, Central Asia, Syria, Iran, Shanghai, Istanbul and Marrakech for the likes of Lonely Planet, National Geographic and Time Out. His journalism has appeared in the Financial Times, Sunday Times, Observer and Time Out magazine.
He has written two books on intrepid early travellers in Egypt and recently published a book about Eel Pie Island, a legendary music and counter-culture haunt in the Thames at London.
For the past couple of years he has been working with artist Olivier Kugler on a graphic reportage project looking at modern Britain and its relations with the rest of the world through the prism of fish & chips.
Which would be lovely, except eating fish & chips makes him nauseous.
Andrew Humphreys Online
Web: www.paradiseroad.co.uk
Andrew Humphreys books on Good Reads