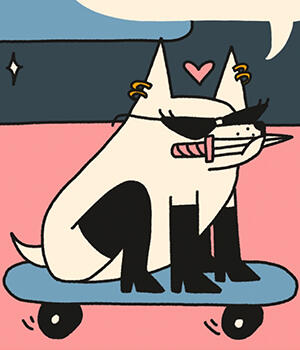 Clarice Tudor
Clarice Tudor is a comic artist and cartoonist specialising in sad dogs and self-deprecating comedy.
Her introspective comics go from wholesome to savage fast enough to give you whiplash.
Clarice's quippy one-liners have amassed over 62k followers on Instagram. But it's not just webcomics! Clarice also writes longer form graphic short stories such as Love at First Bite, a sweet tale of two queer vampires which was longlisted for the coveted Observer/Cape/Comica Graphic Short Story Prize.
After graduating from the University of Leeds, she turned her personal artistic practice into a thriving small business as well as working freelance! Clarice's impressive list of clients includes The Guardian, Sanrio/Hello Kitty, It's Nice That and Tumblr.
Clarice's visual style relies heavily on cuteness and animals as a means of taking ugly feelings and making them more digestible.
She thinks "anthropomorphism makes it far easier to look at ourselves honestly." She states that her goal is similar to that of many cartoonists – to take a thought, concept, feeling or issue and break it down into an appealing, simple, easy-to-digest piece of art that inspires or soothes the soul.
What sets Clarice apart is her youthful wit.
Clarice Tudor Online
Web: www.claricetudor.bigcartel.com
Instagram: @claricetudor
Twitter: @claricetudor_
Facebook: @claricetheillustrator
Tumblr: @claricetudor