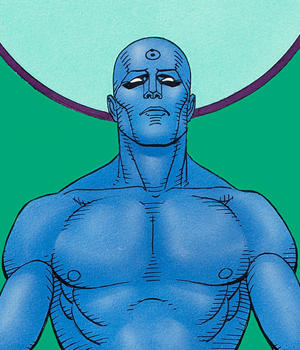 Dave Gibbons
Dave Gibbons established himself in underground comics and fanzines in Britain before becoming a frequent contributor to the seminal 2000AD, illustrating "Harlem Heroes", "Dan Dare" and co-creating "Rogue Trooper".
Since then, he has drawn and written for most comics publishers on both sides of the Atlantic.
His work has encompassed Doctor Who, Superman, Batman, Green Lantern, Captain America, Doctor Strange, The Hulk, Predator, and Aliens.
Watchmen, his collaboration with writer Alan Moore, is the best-selling graphic novel ever published and became a major motion picture.
His autobiographical graphic novel The Originals won an Eisner Award in 2005. His recent work has included Kingsman: The Secret Service, with Mark Millar, now also a major motion picture.
He co-created Give Me Liberty and Martha Washington Goes To War with writer Frank Miller.
He was appointed Comics Laureate of the UK in 2014, with the brief to develop the use of comics in education. The University of Dundee awarded him an Honorary Doctorate in Comic Arts in 2015.
His autobiography, Confabulation: An Anecdotal Autobiography, was published by Dark Horse in 2022. Packed with over 300 iconic, rarely seen, and unpublished art pieces and photographs, presented alphabetically, with informally written anecdotes that can be read from cover-to-cover or simply dipped into, it not only entertains, but peels back the layers of a fascinating career in comics.
Gibbons reveals unseen comics pitches, life as the first Comics Laureate, and going from being a fanzine artist to infiltrating DC Comics in the 1970s. The book covers everything from working on Doctor Who and meeting Tom Baker to being inducted into the Eisner Hall of Fame.
Dave Gibbons Online
Web: en.wikipedia.org/wiki/Dave_Gibbons
Twitter: @davegibbons90