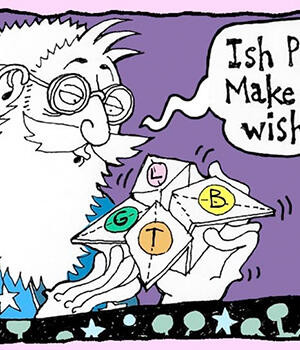 David Shenton
British cartoonist David Shenton has been creating LGBT+ cartoons and comics since the 1970s when his work started appearing in publications such as Gay News, Him and Capital Gay.
Along with cartoonists such as Alison Bechdel and Kate Charlesworth, David has been at the forefront of exploring LGBT+ life and issues through cartoon and comic art in the late twentieth century.
David's other books include Get Her! (2008), Phobia Phobia (1988), Salomé (text by Oscar Wilde, 1986), Bananas Are Not the Only Fruit (1993) and, with Kate Charlesworth, Drawn Out & Painted Pink (2009).
His book Stanley and the Mask of Mystery (1983) was one of the world's first LGBT+ graphic novels.
David's strips have also featured in anthologies including AARGH! Magazine (1988), No Straight Lines: Four Decades of Queer Comics edited by Justin Hall (2013) and Strip AIDS edited by Don Melia (1987).
David studied printed textiles at Loughborough College of Art and received his teaching certificate at Leeds University in 1971.
Alongside his career as an artist, he has also taught literacy at Norwich Prison, Hackney College, and the Education Department of the London Zoo.
David's latest comic book 'Forty Lies: A Work of IPSEDIXITISM' will be available later in 2023.
David Shenton Online
Web: en.wikipedia.org/wiki/David_Shenton
Facebook: @dscomics