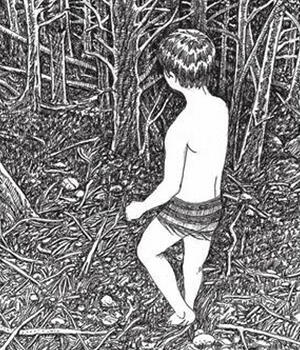 Dimitris Anastasiou
Dimitris is a painter and the creator of the graphic novel "A=-A", based in Athens, Greece.
Dimitris Anastasiou was born in Athens in 1979.
He studied painting at the Athens School of Fine Arts (A.S.F.A.), and has also studied printmaking, photography and multimedia/hypermedia.
His work has appeared in more than 30 exhibitions in Greece and elsewhere.
A=-A, his first graphic novel was published by Jonathan Cape in July 2021.
It's a beautiful, dark and surreal story, about a man called Alpha whose world is quite literally turned upside down for a day.
As he wanders the streets of his hometown, reality flips on its axis, sending him and the reader on a wild and extraordinary journey.
This wholly immersive, escapist, psychedelic mystery centres around two profound philosophical questions: in a strange and unreliable world, can we be certain of anything?
And if we stop craving certainty - and entertain doubt - what new possibilities become available to us?
Dimitris Anastasiou Online
Web: www.dimitrisanastasiou.gr
Instagram: @anastasiou.dimitris 
Facebook: @Dimitris.P.Anastasiou
We Present - Dimitris Anastasiou