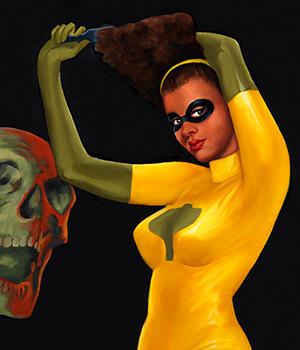 Fiona Stephenson
Fiona paints 1950s-style retro pin-up paintings traditionally in oil on canvas to keep that authentic feel and she works mostly for advertising and packaging companies.
Affiliated Equipment in Toronto continue to commission and display Fiona's art on the side of their large trucks, other work includes Tesco's 'Along Came Betty' cosmetics, Asda's Sci-Fi bedding range and Rebel Wine labels.
In an earlier life Fiona trained as an Illustrator and briefly worked in TV, books and magazines before becoming a comic letterer and colourist for DC Comics, 2000AD and Warhammer 40,000.
Fiona still has links with comics. One of her pin-ups was on the cover of DC Vertigo's first issue of Bodies written by Si Spencer and a pin-up version of Black Hammer (Dark Horse) was a variant cover for the comic of the same name.
She currently co-owns a bar with husband Dean Ormston called Spiral City, which takes its name from the Black Hammer comic (co-created by Jeff Lemire and Dean Ormston).
The pairs' artwork adorns the walls in the bar and they plan to sell merchandise featuring their artwork in a shop on the premises.
Fiona Stephenson Online
Web: www.fionastephenson.com
Twitter: @FionaPinUp
Instagram: @fiona.stephenson.artist
Facebook: @FionaPinUpArt