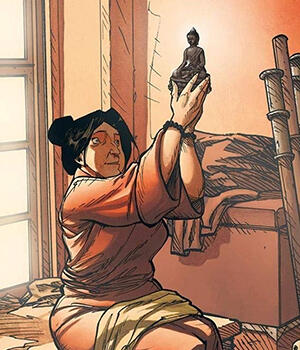 Fred Campoy
Frédéric Campoy (as Fred CAMPOY) was born in Pau, France, in 1973.
After studying art for 2 years he started an art studio with his childhood friend Roland Pignault. They studied and worked independently for 3 more years before signing their first Franco-Belgian comic: Arcanes, (Delcourt, 1998). This album reflects Frédéric's love of action comics, adventure and comics-inspired graphics.
He then went on to publish 2 volumes of a parody western with Will Lupano called Little Big Joe (Delcourt, 2000-2002).
It is with his brother Bruno and another childhood friend, Olivier Paille, that he brought an old project to life: the Science-Fantasy trilogy SHRÖG (Vents d'Ouest, 2005-2007), followed by Kookaburra Universe tome 11 (Soleil, 2009).
He then wrote the Karma Salsa trilogy (Dargaud, 2012-2014): a modern-day detective graphic novel combining action, suspense, spirituality… and salsa!
In 2014, with Mathieu Blanchot, he began researching and working on his Alexandra David-Néel 4-part biopic project. 
Grand Angle published the first volume in 2016, with a volume every subsequent year. The 4th and last volume came out In June 2020.
This series titled Une vie avec Alexandra David-Néel – A life with Alexandra David-Néel – has found a very large audience.
Frédéric is now working on his next project, volume 1 of a French triple Olympic champion biopic, due to be published in the first quarter of 2022 by Delcourt.
Along with creating graphic novels, Fred CAMPOY teaches drawing and illustration at the Arts and Design college of Pau (ESA Pyrénées).
He also works as a screenwriter.
Fred Campoy Online
Twitter: @fredcampoy
Instagram: @fredcampoy