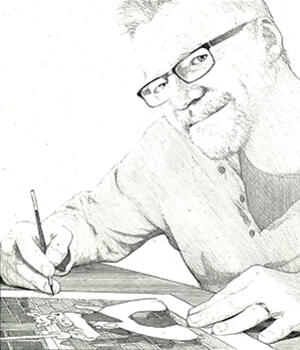 Gerhard
For 20 years, Gerhard worked as background artist, environmental designer and cover colorist on the Cerebus graphic novel which has been hailed as, "one of the most sprawling pieces of visual fiction ever created".
His designs and meticulously crafted drawings served to ground even the most fantastic of events, or drastic of stylistic shifts.
Since completing Cerebus in 2004 he has been mostly doing commissioned work through his website, GerhardArt.com, and exploring other creative endeavours including; contributing to the awesome Winsor McCay tribute book: Little Nemo, Dream Another Dream; doing a variant cover of The Walking Dead; illustrating a Grant Morrison story 'Smile of the Absent Cat' and most recently, colouring the upcoming "Becoming Frankenstein".
Gerhard was inducted into the Canadian Comic Book Creator Hall of Fame in 2019.
He has had multiple Eisner Award nominations and was an Eisner Award winner for Best Graphic Album: Reprint in 1994 for 'Cerebus: Flight' by Dave Sim and Gerhard.
Gerhard was also a winner of the Joe Shuster Award for Outstanding Achievement in 2005 with Dave Sim for completing Cerebus in 2004.
Gerhard Online
Web: gerhardart.com
Web: en.wikipedia.org/wiki/Gerhard_(cartoonist)