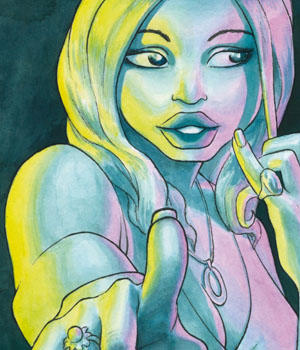 Hannah Berry
Hannah Berry is an award-winning graphic novelist, comics creator, writer, illustrator, editorial gun-for-hire and UK Comics Laureate 2019-21.
In 2018 she was inducted as a fellow of the Royal Society of Literature and became the slightly grander 'Hannah Berry FRSL'.
Her first graphic novel BRITTEN & BRÜLIGHTLY, begun while studying illustration at the University of Brighton, was published by Jonathan Cape in 2008. It has subsequently been published in the USA, Italy, Holland, France and Serbia, with the French edition chosen for the official selection of the 2010 Angoulême International Comics Festival.
Her second graphic novel, ADAMTINE, was published in 2012 and her third, LIVESTOCK, in 2017, both by Jonathan Cape and both to a pleasing amount of critical acclaim. LIVESTOCK was nominated in the Best Graphic Novel and Best Writer categories at the 2017 Broken Frontier Awards, winning the Best Writer Award.
She currently does a monthly cartoon strip for PROSPECT and formerly did a weekly cartoon for the NEW STATESMAN. She has contributed to several comics publications and projects internationally, including WE SHALL FIGHT UNTIL WE WIN (404 Ink & BHP Comic, UK 2018) the venerable 2000AD (Rebellion), LA VILLA SUR LA FALAISE (Casterman, France 2010), IDP:2043 (Freight & Edinburgh International Book Festival, UK 2014), ABOVE THE DREAMLESS DEAD (First Second, US 2014), HOAX: PSYCHOSIS BLUES (Ziggy's Wish, UK 2014), and wrote the Sentinels reboot as part of the 2017 SCREAM & MISTY special.
A regular guest of art, literature and comics festivals in the UK and around the world, her artwork has been exhibited in solo and collective exhibitions worldwide.
Around the comicking, she co-hosted the No YOU Hang Up podcast (currently on hiatus due to work and family commitments) with Dan Berry (no relation?), which featured relaxed/quite silly interviews with creative guests.
She is half Ecuadorian, lives in Brighton, and is extremely partial to cashews; the Ferrari of the nut world.
HANNAH BERRY ONLINE
Web: hannahberry.co.uk
Twitter: @streakofpith