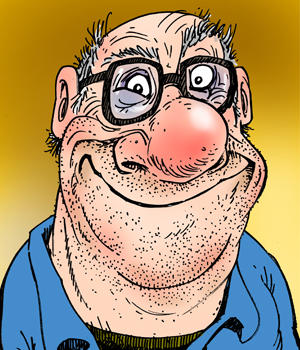 Hunt Emerson
Hunt Emerson has been drawing comics since the mid-1970s, and has published over 30 comic books, mostly with Knockabout.com.
One of Hunt's specialities has been hilarious adaptations of classic literature – his versions of Dante's Inferno and The Rime of the Ancient Mariner are highly regarded.
He is a longtime contributor to Fortean Times magazine and to The Beano. He has worked with The Ruskin Foundation in Brantwood, Coniston, and with Dove Cottage in Grasmere. He has also taught and run workshops all over Britain and overseas.
Hunt's work is funny, lively, and usually highly improbable. His latest publications are Lives of the Great Occultists, Phenomenomix (a 240 page collection) and a children's book called Moby Duck.
You can buy his books (the ones still in print) on his website, Largecow.com, along with original artwork pages and cartoons.
Hunt Emerson ONLINE
Web: largecow.com
Web: www.huntemerson.com
Twitter: @HuntEmerson
Facebook