Igort
Igort Tuveri, who publishes under the name of Igort, was born in 1958 in Cagliari, Sardinia, yet grew up surrounded by Russian culture. He has been working as a comic book author, illustrator, essayist and musician since the late 1970s.
Recurring elements in his work are Russian and Japanese culture.
With a varied oeuvre ranging from experimental comics and non-fiction work with a strong political engagement, Igort is one of the most widely translated Italian authors, with editions of his books appearing in English, French, Japanese, Russian, Spanish, German, Dutch, Greek and Portuguese, including the award-winning, two-toned "5 is the Perfect Number", which has been translated into 15 languages and turned into a film, about an ageing, old-fashioned Mafioso gangster, whose son's murder forces him out of retirement. In 2019, Igort wrote and directed a critically-acclaimed feature film based on the graphic novel.
He travels, collects testimonies that become his drawn documentaries. Starting with his Ukrainian and Russian notebooks, published in numerous languages, he is now working on the third instalment of his widely popular "Japanese Notebooks" trilogy, beloved by critics and readers alike.
He also created a colourful biography of jazz genius, Fats Waller.
One of the most prominent Italian graphic novelists, some of his first stories appeared in the magazine "Il pinguino", which he founded in the late 1970s, which also featured the work of Giorgio Carpinteri, Lorenzo Mattotti, Daniele Brolli and Roberto Baldazzini.
Recognition of his work expanded in the 1980s, with comics appearing in both many national and international magazines including "Linus", "Alter", "Frigidaire", "Metal Hurlant", "L'echo des Savanes", "Vanity" and "The Face".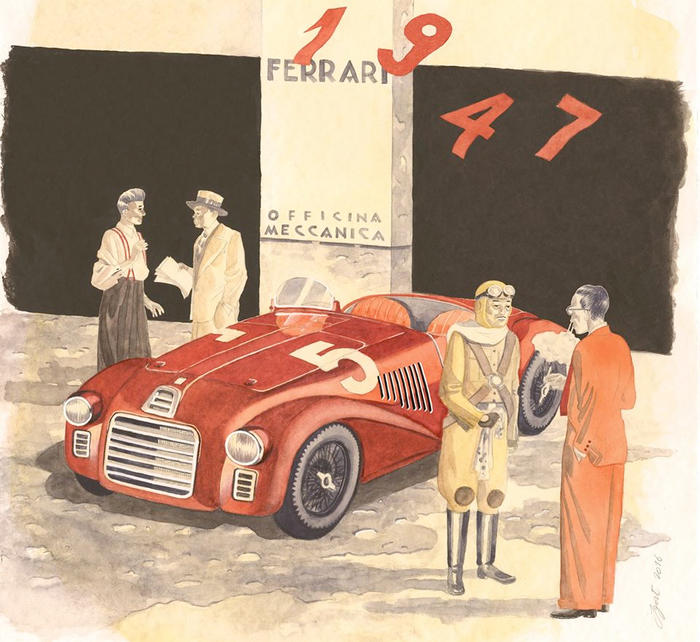 In 1983, together with Brolli, Carpinteri, Jori, Kramsky and Mattotti, he founded Valvoline, a short-lived but influential movement of post-punk artists who, inspired by the practices of the historical avant-garde, upset the rules of traditional adventure comics.
It led the formation of the Slava Trudu Orchestra, named after the Russian newspaper whose name means 'Glory to Labour'. Their first album of Darkwave electronic pop was suitably titled Mélodico Moscovita, with a Cossack-inspired cover by Igort. He also wrote his articles, essays, reflections, for Il Manifesto, Reporter, Il Corriere della Sera, Repubblica.
After his works reached America and Japan, he founded numerous magazines including "Dolce Vita" - which ran two fully-painted stories compiled in 1990 into his first major work translated into English, "Dulled Feelings".
His ironic reimagining of the Batman mythos, created in the late 1980s, predates most of the character's current rethinking. Igort imagines a muscular steelworker in Soviet Russia indoctrinated by a Dark Knight facsimile, finally putting on a cowl and a cape in order to rescue a ballet dancer he is hopelessly in love with. In highly sophisticated pages inspired by Russian Constructivism, there is the satirical clash of two opposing cultures and comic art styles.
His work was regularly published in France and in many other countries.
After first visiting Japan in 1991, his work has also been published regularly in Japan. He created the series "Amore", set in Sicily, and "Yuri", both published by the Kodansha publishing house, and moved to Tokyo, gaining further work on special editions for Magazine House Tokyo, Hon Hon Do and others. He also collaborated with Oscar-winning musician Ryuichi Sakamoto, one of many music-inspired projects across his career.
He founded the Coconino Press publishing house in 2000 and the Oblomov Edizioni publishing house in 2017.
In the field of music, he has an impact from 1978 to the present day, singing, playing, composing, and publishing his albums with different formations, including Radetzky e gli isotopi, Slava Trudu, Los tres Caballeros, Maccaroni Circus and Igort & Lo Ciceros
Another great passion is radio. Since the 1970s he has worked as an author and radio host for Radio Città del Capo-Popolare network and radio 2 RAI).
Meanwhile, Igort continues his work on the Baobab series, writing fiction and screenplays for cinema.
Igort Online
Web: www.igort.com
Instagram: @igortgraphicnovelist