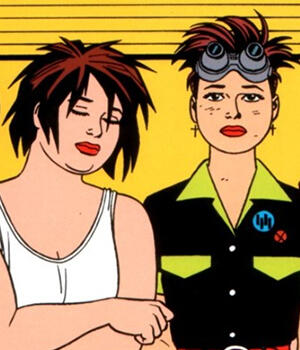 Jaime Hernandez
As a young aimless Latino punk rocker, Jaime Hernandez, along with his brothers Gilbert and Mario self-published the first issue of Love and Rockets in 1981.
It was picked up by Fantagraphics Books in 1982 and ran 50 issues before the brothers took a break to pursue solo projects.
Jaime's titles included Whoa, Nellie!, Maggie and Hopey Color Fun and Penny Century.
Love and Rockets was revived in 2000 and still continues today.
Outside of L&R, Jaime has also done other comic work, magazine illustration and album covers. He lives in Los Angeles.
Jaime Hernandez Online
Web: wikipedia.org/wiki/Jaime_Hernandez
Twitter: @xaimeh
Instagram: @xaimeh
Jaime Hernandez on Fantagraphics