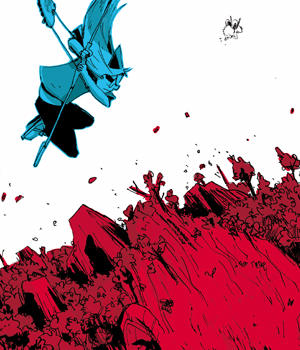 Joe Kelly
Joe Kelly is a writer, producer, penciller and editor, and is the creator of the lauded Eisner-nominated graphic novel I Kill Giants.
I Kill Giants, illustrated by Ken Niimura, was winner of the 2012 International Manga Award from Japan's Ministry of Foreign Affairs and was named the one of the "Top Ten Great Graphic Novels for Teens" by the Young Adult Library Services Association upon its release. Kelly also wrote the screen adaptation for I Kill Giants, which is now a feature film.
Kelly's additional credits include Four Eyes, Bad Dog, BANG!TANGO, DC's Action Comics and JLA, and Marvel's Uncanny X-Men and New York Times Bestseller Spider-Man/Deadpool for Marvel.
As part of Man of Action Entertainment Kelly is one of the creators of the hit long-running animated series Ben 10 and one of the creators/executive producers and head writers on Cartoon Network's Mega Man.
Joe Kelly Online
Web: manofaction.tv
Twitter: @JoeKellyMOA
Facebook: ManOfActionEnt
Instagram: manofactionent