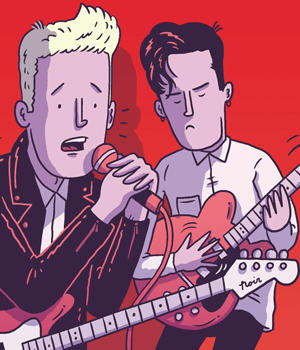 Joe McGarry
Whether it's performing as the indie dance duo Pop Noir or operating as design and animation outfit The Fantastic Heat Brothers, the Manchester-born McGarry twins have quickly established themselves as powerhouses in the Los Angeles music and arts scene.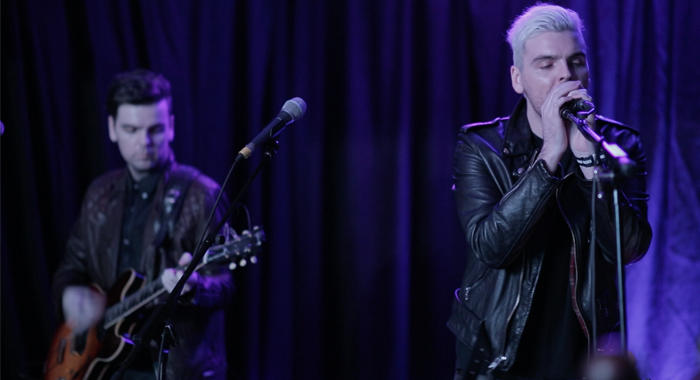 Pop Noir performing at LICAF 2016 - photo by Giuseppe Abbà
The oldest by 45 minutes, multi-instrumentalist Joe McGarry is the driving force behind Pop Noir, doing the lion's share of the writing, doing all the arranging and programming and producing the records, while Luke stands in the spotlight and sings.
It's a similar story with the art the brothers create. Much of their output is based around Luke's distinctive and acclaimed cartoon style - but while he is responsible for the character design and animation in the videos the pair create for a broad range of clients, from major label rock bands to the likes of corporate giants Visa, it is Joe who handles all the technical aspects, from lip synching and music score, to special FX and all the post production.
Thanks to Joe's design and programming skills, the Fantastic Heat Brothers are able to offer clients a "one-stop shop" for all their creative needs, including concept, design, illustration, animation, web design and programming and music production.
Their mastery of sound and vision has given the McGarrys a client list that ranges from Visa, Wells Fargo, PBS and IFC, to the U.N. and the California State Lottery, and they specialize in the music business, working with all the major West Coast concert promoters and venues, a host of record labels and Jack Black's Festival Supreme.
For LICAF Live in 2020 Joe, along with his brother Luke McGarry, developed a super cool Virtual Comics Clock Tower! Online at licafclocktower.com - it's a place to discover the work of an inspiring collection of independent creators, most of who had signed up to be part of the planned physical 2020 Festival.
JOE MCGARRY ONLINE
Web: fantasticheatbrothers.com
Web: popnoir.org
Twitter: @JoePowerMcgarry