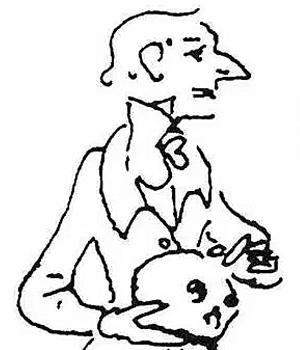 John McShane
John McShane who has translated Rodolphe Töpffer's 'How to Create Graphic Novels' is also the co-author of the bestselling 'Robert Burns in Edinburgh'.
He is one of the founder members of one of the longest running comics societies in Europe, which still meets every month in Glasgow.
The group spawned the acclaimed and much quoted magazine AKA, regular comic marts, and a comic convention among whose guests were Marv Wolfman (creator of Blade) and Will Eisner (creator of The Spirit).
With his business partners, John went on to create AKA Books & Comics, the shop Mark Millar (Wanted, Kick Ass) says got him completely addicted to the medium.
John and George Jackson (of the group Ossian) created Fat Man Press to publish the ever-popular The Bogie Man by John Wagner, Alan Grant, and Robin Smith. This was made into a TV Movie starring Robbie Coltrane (Harry Potter series), Midge Ure (Ultravox, Live Aid), Fiona Fullerton (James Bond: A View to a Kill), and Craig Ferguson (The Late Late Show with Craig Ferguson).
John was later appointed publisher of Trident Comics and helped found the original Toxic comic.
He is also the creator of the comic strip Jimmy the Zombie and has written a number of essays, reviews, and short stories, as well as several short films including The Real Thing and Echoes.
His books include: Robert Burns in Edinburgh, How To Create Graphic Novels by Rodolphe Töpffer, The Spirit, and Fingal, Celtic Warrior.
He is a regular contributor to Comic Scene and a frequent presenter at comics and literature festivals.
John McShane Online
Web: akacomicsonline.tumblr.com
Twitter: @JohnMcShane20
Scottish Screenwriters Facebook
DownTheTubes article: Rodolphe Töpffer's classic guide to the medium, "How to Create Graphic Novels", re-published by Lakes International Comic Art Festival, March 2017 by John Freeman