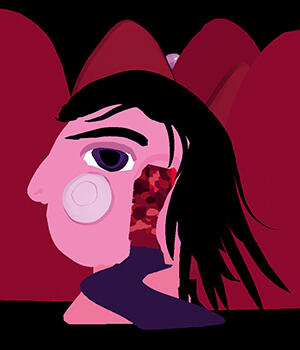 Karrie Fransman
Karrie Fransman is a comic creator. She tells visual stories in books, newspapers, animations, sculptures, on Ipads and in virtual reality.
Her comic strips and graphic stories have been published in The Guardian, The Times, Time Out, The Telegraph, The New Statesman, The Young Vic, Psychologies Magazine, The Arts Council Create Magazine, The Goethe Institute  and for The British Red Cross.
Her latest illustrated book, 'Gender Swapped Fairy Tales', was co-created with her husband Jonathan Plackett and was published by Faber & Faber in November 2020 and received fantastic reviews in The Guardian, The Independent, on BBC London and even in the Daily Mail. It was chosen as Book of the Month in the Bookseller and also in WH Smith. It is currently on its 5th reprint.
She collaborated on animations for BBC Radio, IFRC Red Cross and Christian Aid.
Her graphic novel, 'The House That Groaned' (2012), was published by Penguin Random House's Square Peg. It received praise from film director Nicolas Roeg and was chosen as Graphic Novel of the Month in The Observer.
Her award winning graphic novel 'Death of the Artist' (2015) was published by Jonathan Cape and was awarded a grant from the Arts Council England.
She developed an award winning comic, 'Over, Under, Sideways, Down' about an Iranian teenage refugee for The British Red Cross, created an installation for the British Council and Southbank Center and was commissioned to make a 'Selves Portrait' for an exhibition with Manchester Art Gallery and the National Portrait Gallery.
She has spoken and run workshops at  The Guardian Masterclasses, Tate Modern, TEDx, Central Saint Martins, Oxford University, University College London, The Hay Festival, The British Council, The Southbank Centre, The Big Draw, House of Illustration, Institut Francais, London College of Communications, ARVON, The Free Word Centre, Scottish PEN, Latitude Festival, The Institute of Contemporary Arts and The British Library.
She has also presented her work in Spain, Belgium, Ireland, Russia, Bangladesh, Croatia, Corsica, Finland, Lebanon, France, Malta and Mexico.
Karrie Fransman Online
Web: karriefransman.com
Instagram: @karriefransman
Twitter: @karriefransman
Facebook