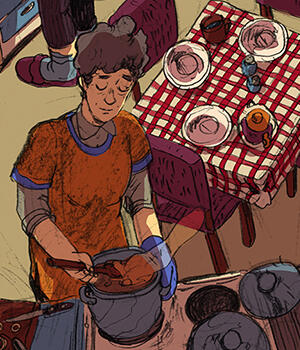 Kateřina Čupová
Kateřina Čupová, who often signs her works as faQy or Chechula, studied animation at the Faculty of Multimedia Communications at Tomas Bata University in Zlín.
Even her early stories, which were strongly inspired by Japanese manga, suggested that an exceptional cartoonist has appeared on the Czech scene: a phenomenally talented artist with the desire to experiment and to tell distinctively unique, poetic and atmospheric sui generis stories.
For her short comic Kašna (Fountain), she won the Muriel Award for the best short comics and in 2020 she published her graphic novel debut, an adaptation of Karel Čapek's drama R.U.R.
Kateřina Čupová Online
Web: katkacupova.wixsite.com/portfolio
Twitter: @chechulalala
Instagram: @chechulacupova
Facebook: @chechulaArt