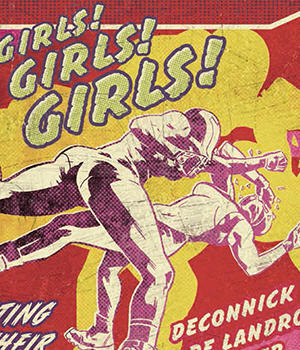 Kelly Sue DeConnick
Kelly Sue DeConnick is an American comic book writer and editor and English–language adapter of manga.
She got her start in the comic industry adapting Japanese and Korean comics into English. Five years and more than ten thousand pages of adaptation later, she transitioned to American comics with 30 DAYS OF NIGHT: EBEN AND STELLA, for Steve Niles and IDW. 
Work for Image, Boom, Oni, Humanoids, Dark Horse, DC, Vertigo and Marvel soon followed.
Today, DeConnick is best known for surprise hits like Carol Danvers' rebranding as Captain Marvel and the Eisner-nominated mythological western, PRETTY DEADLY; the latter was co-created with artist Emma Ríos.
DeConnick's most recent venture, the sci-fi kidney-punch called BITCH PLANET, co-created with Valentine De Landro, launched to rave reviews in December 2014.
Kelly Sue DeConnick Online
Web: milkfed.us
Twitter: @kellysue
Instagram: @kellysued