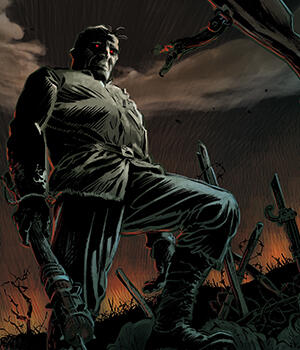 Leomacs
Leomacs (real name Massimiliano Leonardo) is an Italian comic book artist based in Rome, Italy.
In Italy Leomacs has worked extensively with Sergio Bonelli drawing the two most popular Italian comics characters Tex and Dylan Dog.
He has also realised the storyboards and animated sequences for the film "Nessuno mi troverá" directed by Egidio Eronico.
Among his latest works is The Invisible Mountain, written by Pierre Makyo and Frédéric Richaud for French publisher Delcourt.
Leomacs has collaborated as a storyboard artist with Colingwood & Co. for the animated series Horrid Henry.
He is currently working on DC Comics' Black Label Basketful of Heads, written by Joe Hill, part of the new horror line Hill House Comics.  
Leomacs Online
Web: www.leomacs.com
Twitter: @leomacs
Instagram: @leomacs