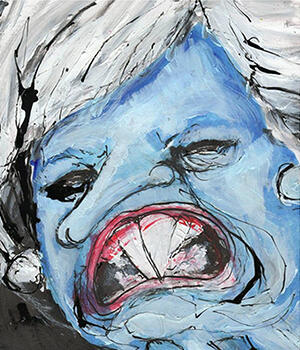 Lou McKeever
Lou McKeever (aka BlueLou) is a political cartoonist who has worked on a range of publications including The Canary, The Guardian, The Independent, TES, The Morning Star and New Statesman.
BlueLou grew up in Northern Ireland during the troubles and saw Orange men rioting in white gloves. She remembers visiting a grandparent in Derry who still used a outdoor toilet and only had heating from a peat fire.
She did her first Judge Death drawing from her Brothers 2000AD at the age of 10 and surprised the art department of her secondary school by painting Ronald Ragan with a Micky Mouse hat on fighting Gorbachev wearing a dog collor.
She was told by her secondary school careers officer at 15 to go work in a factory… he laughed when she told him she was going to art college.
Despite the dreadful catholic education and dyslexia, BlueLou left school at 16 and did her A level art in one year at 17.
She got into art college on her portfolio and came out with a 2:1 BA.
BlueLou worked in multimedia, such as performance, painting and digital art for many years always going back to the cartoon/illustration medium.
She worked in rotation in the Morning Star with Martin Rowson for two years.
BlueLou was the first woman to enter the political cartoon awards 2012 and was the first woman to appear in 'The Best of Britain's Political Cartoons 2014' anthology.
BlueLou Online
Web: bluelou.net
Twitter: @blueloutter