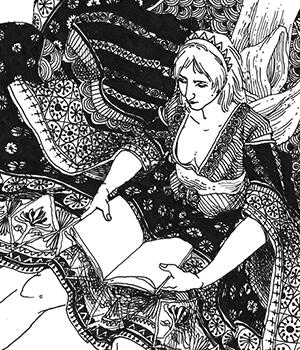 Lucie Arnoux
Lucie Arnoux started drawing comics 14, when she joined the Studio Gottferdom.
First published at 17 in Lanfeust Magazine, she produced monthly autobiographical stories in its pages for six years.
She studied in Paris before finally moving to the UK. She graduated from Kingston University in Illustration and Animation and has settled in London for good.
Lucie is the creator of Stonetop, a tabletop fantasy adventure RPG centred on a village community, working with Jeremy Strandberg and Jason Lutes, and her graphic novel, Je Ne Sais Quoi, published last year by Jonatahan Cape.
Lucie has been busy designing theatre backdrops and prop painting with Olivier award-winning designer Tim Bird, live sketching as artist-in-residence for Sidmouth Folkweek, Womad and the Rose Theatre, illustrating comics and children's books published internationally.
Online Lucie Arnoux
Web: www.luciedraws.com
Web: willoe.carbonmade.com
Instagram: @luciedrawsthings
Facebook: @LucieDrawsThings