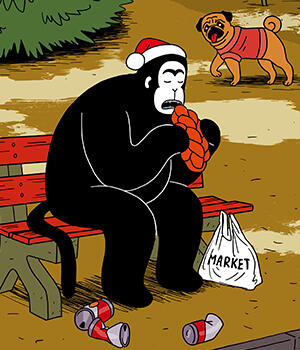 Marek Rubec
Marek Rubec is one of several artists from the Czech comics scene drawing on the tradition of Czech animation.
Even though its golden era was several decades ago, there are still many universities offering it as a subject to an unusually large number of applicants, many of whom also gravitate towards comics in equal measure.
For Rubek, animated film represents just one part of the kaleidoscope of artistic activities he makes a living from, although at this stage of his creative development his main focus is comics.
Rubek's comics are characterized by the exceptional variability of his artistic style – for each subject he selects the style and technique which best suits it, making it difficult to discern any unifying outward features.
In terms of content he tends towards dark and absurd humour.
After a series of diverse short stories, Marek Rubec created the recurring character of Jarmil, and following a period of artistic experimentation he is currently enjoying the opportunity to concentrate on developing one specific world and the central character who operates within it.
Jarmil is an ape living among people, who are usually less alarmed by his hairy appearance than they are by his reluctance to adhere to the written and unwritten rules of civilization.
In order to depict Jarmil's spontaneous behaviour, the author employs the form of a wordless comics, a cleverly simplified cartoon line and a minimalist use of colour.
As a result, his ape hero has the potential to reach a very wide audience: Jarmil's adventures work equally well in children's magazines and comics anthologies for adults.
The significant international response to the publication of the eponymous collection of Jarmil's stories by the British/Polish publishers Centrala (2018) demonstrates that the universal message of Rubek's comics can even overcome national borders.
Marek Rubec Online
Web: www.behance.net/marekrubec