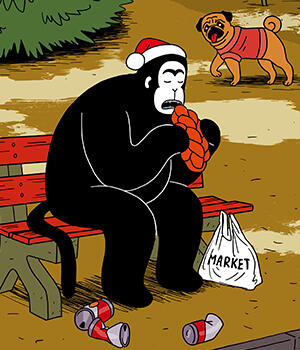 Marek Rubec
Marek Rubec is a comics artist, freelance illustrator and animator.
His short comics have been published in many Czech and European magazines and anthologies, and he became the first Czech artist to create a Google doodle.
In 2013 he won the ARNAL prize for the best comic without words.
Four years later he won the international comics competition at the Frame Festival in Prague and also won the Muriel Award for The Best Czech Short Comic in 2018.
In 2016 he took part in a residence for comics artists in Malmö, Sweden.
He gained popularity in 2018 thanks to "Jarmil" published by Centrala. These are little sarcastic stories about a monkey man living in a small creepy town somewhere in the middle of Europe.
He published the second book with his hero "Jarmil in India" in 2021.
In his work, he often is inspired by the environment of blockhouses and the lives of small town people.
Marek Rubec Online
Web: www.behance.net/marekrubec
Instagram: @arthurbrakowicz