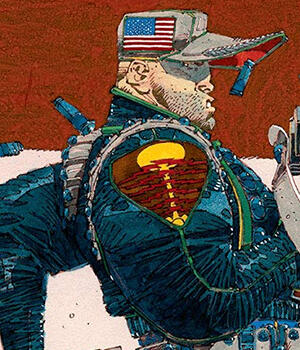 Mick McMahon
Mick McMahon is a British comics artist best known for his work on 2000 AD characters such as Judge Dredd, Sláine and ABC Warriors, and the mini-series The Last American.
After art school Mick took his portfolio to Mr Bensberg, the editor of Battle Picture Library. He thought Mick's work showed promise and sent him across the road to the Temple Art Agency.
Over the following year Mick did a handful of very short strips for a putative SF comic from DC Thomson, who had heard of the coming of a new SF comic from IPC.
Meanwhile Mick had drawn a new sample strip which Temple showed to Pat Mills.
Thanks to Pat he then started working full time in comics, his first job being Judge Dredd.
Over the years, as well as comics, he has drawn concept art and storyboards for games and movies, as well as spending five years doing proper nine to five jobs in various computer games studios.
Mick has also been working with fellow guest, writer, director and producer, Jörg Tittel, on the The Last Worker, a new VR game.
Mick McMahon Online
Web: wikipedia.org/wiki/Mike_McMahon_(comics)
Twitter: @TheLastWorker 
Instagram: @thelastworker
Facebook: @MikeMcMahonComics