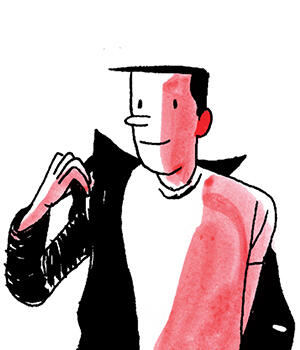 Philippe Girard
Philippe Girard was born in Québec City, Canada, in 1971. His comics have received the Joe Shuster, the Bédélys Québec and the Bédéis Causa Awards.
He published his first comic strip around the age of nine and has since published more than 20 books.
During his studies, he drew in various school newspapers, before launching the fanzine Tabasko! with Djief and Leif Tande.
After graduating in graphic design from Laval University in 1993, he completed a traineeship in Brussels at Spirou HeBDo in 1998 and participated in the founding of the Mécanique Générale structure.
He spent the autumn of 2010 in Bordeaux for a writing residency and repeated the experience in Kraków in 2019, and again in Liège in 2022.
His work explores the themes of identity and death, notably with Tuer Vélasquez (Glénat Québec), recounting his disputes with a paedophile priest, and Leonard Cohen On a Wire (Drawn and Quarterly) devoted to Montreal singer Leonard Cohen.
Recently, his graphic novel Danger Public was adapted for the big screen by Alexis Chartrand.
He had just launched Supercanon! (Casterman), a work of fiction around the life of Canadian engineer and arms dealer, Gerald Bull.
Philippe Girard Online
Read: an interview with Philippe Girard about Leonard Cohen on a Wire on the Forward website
Read: an interview with Philippe Girard about Supercanon! on DayFREuro