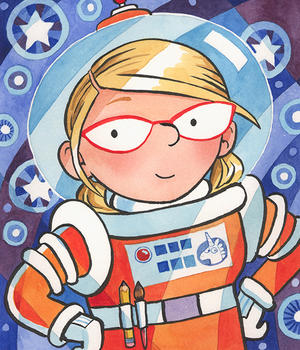 Sarah McIntyre
Sarah McIntyre writes and illustrates picture books including Grumpycorn and Don't Call Me Grumpycorn.
Her latest chapter book with Philip Reeve will be launching in time for the festival: Kevin and the Biscuit Bandit, the third book in their co-authored Roly-Poly Flying Pony series.
(Last time Reeve & McIntyre appeared as guests at LICAF, they featured Pugs of the Frozen North.)
The 24-page comic that Sarah made for the festival's 24-Hour Comics Marathon appears at the beginning of the collected 24 by 7 anthology, edited by Dan Berry.
Sarah McIntyre Online
Web: jabberworks.co.uk
Twitter: @jabberworks
Instagram: @jabberworks  
Facebook: illustratrix
#DrawingWithSarah Youtube
#PicturesMeanBusiness campaign