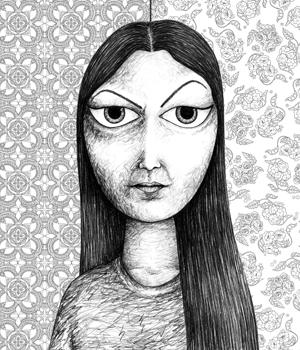 Sayra Begum
Sayra Begum is an artist based in Nottinghamshire.
She has a BA in Illustration from Plymouth College of Art and an MA in Illustration: Authorial Practice from Falmouth University.
Begum's work focuses on female and marginalised voices. Her style is inspired by Islamic miniatures and Surrealism.
Mongrel, Begum's debut graphic novel, published last year by Knocakout Comics, supported by Arts Council England, started life during her time at Falmouth and was at the centre of her creative practice until its completion in February 2020.
In Mongrel, Begum has recreated her childhood memories from her Islamic, British-Bangla upbringing. She weaves in and out of memories reflecting on relationships, traditions and society until she starts mirroring the present day where she is faced with the most agonising part of her journey so far.
She has recently been part of an international comic creator exchange program in Czechoslovakia, organised by LICAF.
Sayra Begum Online
Web: www.sayra.co.uk
Instagram
Facebook