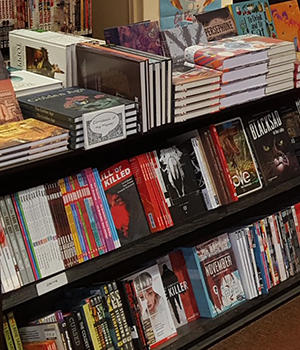 Stephen L. Holland
Stephen L. Holland is co-owner of the superb Nottingham-based comic shop Page 45, he's also the current Comics Laureate and a Lakes International Comic Art Festival patron.
The legendary Page 45 is a comic shop whose goal has always been simple...
to bring the widest range of quality comics and graphic novels available into contact with as many new people as possible, and to do so with a warmth, honesty and informed eloquence in a relaxed, welcoming and professional environment.
To recreate the European model which has meant that comics and their creators there have always been received with the respect they deserve and the sales to accompany it.
Page 45 also works tirelessly with school libraries to promote literacy in and outside the classroom.
Find out more in our Comics Laureate Spotlight!
Page 45 ONLINE
Web: www.page45.com
Twitter: @PageFortyFive
Facebook