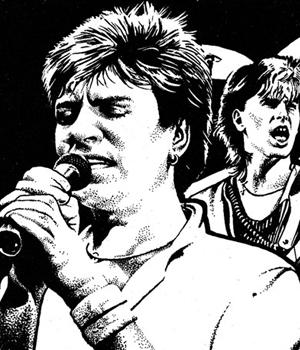 Steve McGarry
Steve McGarry is one of the most prolific and widely-published cartoonists and illustrators that Britain has ever produced.
In the UK alone, his daily strips include "Badlands," which ran for a dozen years in The Sun, "The Diary of Rock & Pop" in The Daily Star, "Pop Culture" in Today and "World Soccer Diary" in The Sun.
Over his four decade career he has regularly graced the pages of soccer magazines Match, Match of the Day and Shoot! and his comics work ranges from Romeo in the 1970s and Look-In in the 1980s, through to Toxic! today.
When The People launched his "Steve McGarry's 20th Century Heroes" series, they billed him as the "world's top cartoonist".
His sports features have been syndicated worldwide since 1982 and his two current features - "Biographic" and "Kid Town" - are syndicated to over 200 newspapers, including The New York Daily News, The Boston Herald and papers as far flung as the South China Morning Post and Kuala Lampur New Straits Times.
For the last three years, Steve has also been collaborating with Illumination Entertainment, creating story art for such movies as "Despicable Me 2," "The Minions," and "The Secret Life of Pets".
He was also a story artist on the recent "Minions Paradise" game from EA Games.
Manchester born and bred, Steve has been based in California since 1989.
A two-term former President of the National Cartoonists Society, the world's most prestigious organization for Professional Cartoonists, his honours include Illustrator of the Year awards from the NCS and the Australian Cartoonists Association, and he is a recipient of the Silver T-Square for "outstanding service to the profession of cartooning".
He is currently the President of the NCS Foundation, the charitable arm of the National Cartoonists Society.
STEVE McGARRY ONLINE
Web: stevemcgarry.com
Twitter: @SteveMcGarry
Instagram: @stevemcgarry
Facebook
Tumblr