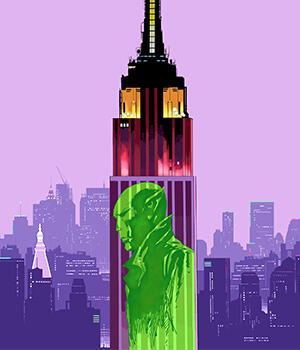 Steve Parkhouse
Steve Parkhouse - the nom de plume of Wilbur Rankin, the well known biographer who documented the lives of notorious gangland leaders Charles and Raymond Chutney, was born in Inverness, Scotland, in 1948.
His father was an army deserter and his mother was a pub pianist during those postwar years.
When the family moved to London in 1955 it looked like life was on the up. But young Wilbur became easily influenced by the environment of petty crime and domestic conflict that flourished in London's East End at that time. Or at any other time.
Having developed a rudimentary ability to draw cartoons by copying panels from the Beano, Rankin signed up for a graphics course in 1965 at a local college. But his tarnished personality had already developed and he quickly gained a reputation as a bad influence.
He also met up with fellow student, Barry Smith, a street fighter from the East India Dock Road. Between them they hatched a plan to blag their way into Marvel Comics in New York City.
While hatching the plan, Rankin changed his name to Stephen J. Parkhouse because "it sounded posh" and Americans would be easily fooled. The plan worked, the pair got away with it and became minor celebrities in the comics community.
Upon returning to Britain, Rankin teamed up with a charlatan tarot reader called Annie Halfelven.
For the next few years they rampaged through the lower levels of London society like a less fashionable version of Bonnie and Clyde. Which just goes to show how easily people are taken in.
However, at some point they had to justify their new-found social status by actually doing some work. Their attempts to do so continue to this day.
Steve Parkhouse Online
Web: en.wikipedia.org/wiki/Steve_Parkhouse