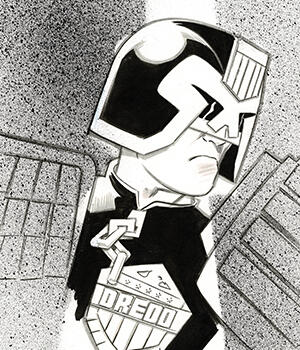 Steve Yeowell
Steve Yeowell's first professional work was with Grant Morrison on licensed toy series "Zoids" in the pages of Marvel UK weekly "Spider Man And Zoids", before moving on to draw 2000AD's superhero character "Zenith".
For DC Comics he has pencilled "Sebastian O", "The Invisibles", "Starman", "Legends Of The Dark Knight", and "The Atom".
For Marvel Comics he pencilled "Skrull KIll Krew" and at 2000AD he has also drawn "Judge Dredd", "DeMarco PI", the long running Harryhausan-esque pirate adventure "The Red Seas", dark ages lycanthrope fantasy "Black Shuck" and "Sinister Dexter".
He lives in north west England.
Steve Yeowell Online
Web: en.wikipedia.org/wiki/Steve_Yeowell
Instagram: @steveyeowellart
Facebook: @steve.yeowell.7