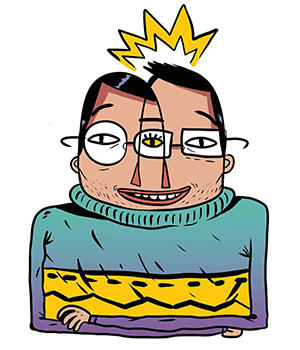 Twins Cartoon
Twins Cartoon is the pen name of the Egyptian twin brother's duo Haitham and Mohamed Raafat El-seht, working together as comic book artists and cultural managers.
Twins Cartoon grew up reading comic books and studied together in the Faculty of Fine Arts, Animation Department, Minia University, in Upper Egypt.
Since graduating in 2008, Haitham and Mohamed, who agree to work best as a team, have been teaching the art of comics in workshops and festivals around Egypt & abroad.
In recent decades, as independent artists and cultural actors, they have noticed the birth of a new generation of young artists who have great potential but were being limited by the censorship and the strict and sometimes harsh regulations of the visual art market (especially Comics) in the Arab world where comics were underestimated as a form of expression. So, in 2014, they addressed the need to form a tight knit cultural and artistic initiative which has initiated partnerships with individuals and organisations.
The Kawkab El Rasameen initiative has grown into a big community of nearly 2000 active members, free for independent young artists. It seeks to try to help them by holding artistic gatherings, indoor and outdoor, in the streets of Egypt and various places around the world, holding visual art and comics workshops between advanced, underground, and amateur artists.
The brothers are also co-founders of Cairo Comix International Festival, and are the driving forces behind Garage Comics Magazine. In 2015, this was a newcomer to the Arab comics scene. It is considered vitally important that the artists and the writers of the Garage collective have total creative freedom – not only for their own benefit, but to challenge the Egyptian and Arab public to take a new perspective on issues of the day.
Twins Cartoon Online
Twitter: @twins_cartoon
Instagram: @kawkab.elrasameen
Instagram: @twinscartoon
Facebook: @kawkabElRasameen
Facebook: @comixgarage
YouTube: Group of 25 creative young talented Egyptians, led by Kawkab El Rasameen, exploring their African origins and connections, using Art and Story Telling