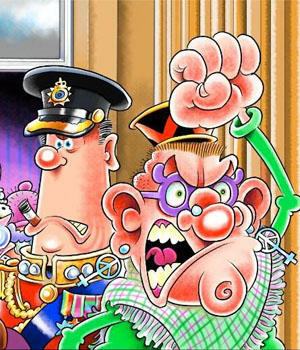 VIZ
In their own usual hyperbolic words, "better than nothing", VIZ have become a regular feature, if not an institution of sorts, at LICAF for good reason – there's nothing in the world quite like them/it!
Representing VIZ, Britain's long-runnning adult comic, will be artist and writer Simon Thorp.
Born in 1965 to simple coal mining folk, Simon Thorp attended grammar school in Pontefract, winning the Rev. JJ Christie Prize for the most outstanding boy in the first year. He went on to spend three years studying fine art at a world famous and prestigious university, the name of which escapes him.
Simon sold his first cartoon to Punch in 1983, and his last cartoon to the same magazine at the same moment. He has a wife and three children, the names of whom escape him.
VIZ ONLINE
Web: viz.co.uk
Twitter: @vizcomic
Facebook