Saturday, 16 October, 2021 - 15:30
Clarice will give a short talk to begin the session showcasing her approach and formula for comedy timing.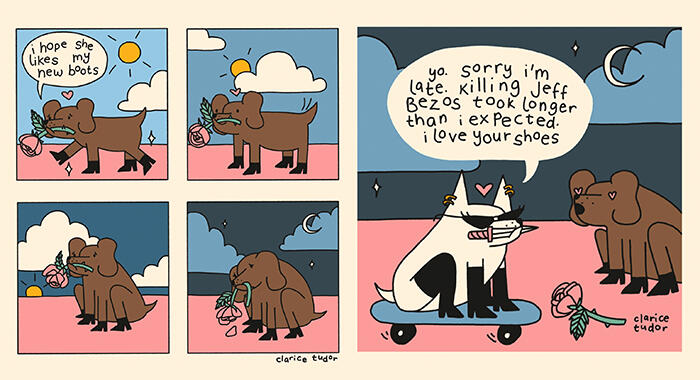 Saturday 16 October 3.30pm
Brewery Arts Centre
Length: 90 mins
Age range: 12+ (maximum 15 participants)
Tickets: £12.50 over 18 / £7.50 under 18
Clarice will dissect examples of her work and others too, followed by a walk-through example of plotting out a comic from ideas through to sketches.
You'll then have time to create your own comic strip reflecting on the secret (not any more!) formulae she's just shared.
And Clarice will be on hand with a list of prompts for anyone who is stuck coming up with a joke.
It's for people of all skill levels.
"I personally think you don't have to be able to draw well to create a great comic strip as long as there's a banging gag!"
Buy your creative comic workshop ticket on the link below!
 
Places are very limited, as these are hands-on, practical and creative workshops. All materials are provided, suitable for 12+. Get booking!
Workshop: Secret Formulas of Comedy Timing in Comic Strips with Clarice Tudor
Saturday 16 October 3.30pm
An interactive 90-minute workshop, recommended for ages 12+. Only 15 places
Thank you so much for supporting the Lakes International Comic Art Festival. See you in October!