Saturday, October 12, 2019 - 20:00
To celebrate Tom of Finland's life and work Ruskins hosts a special night featuring leather, partying and Noir Leather, LICAF's all star band.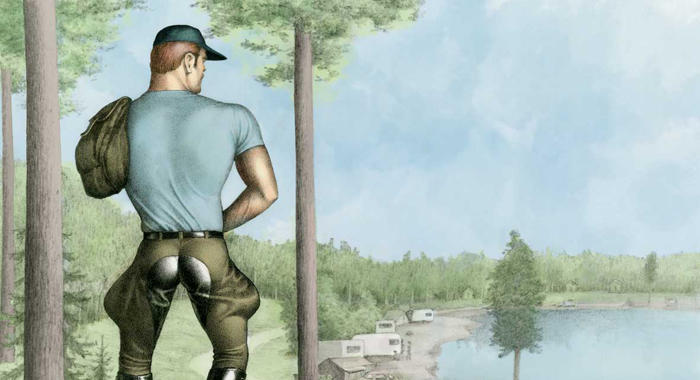 Tom of Finland artwork
// Tom of Finland LICAF leather party
Saturday 12 October, 8.00pm
Ruskins Bar
12-14 Stricklandgate, Kendal
Free
Don your leathers and celebrate the life and work of Tom of Finland.
// Noir Leather
Saturday 12 October, 10.00pm
Ruskins Bar
All Star Band
12-14 Stricklandgate, Kendal
Free
LICAF's first ever, and hopefully not last ever, all star band Noir Leather…… featuring Joe McGarry, Luke McGarry and Charlie Adlard with a host of festival guests!
After Hours
Tom's Pop-Up Bar @ Ruskins
Stricklandgate, Kendal
Festival out-of-hours favourite, Ruskins, is the home to fun and frolics throughout the weekend with a range of one-off, world exclusives which will see you into the early hours….. the bar will be themed as Tom's Pop-Up Pub to complement the Let's Go Camping with Tom of Finland exhibition, as well as featuring artwork by regular Ruskins resident, Luke McGarry.