Friday, 15 October, 2021 - 10:00
This year Comics Up Close will return to the newly refurbished Brewery Arts Centre.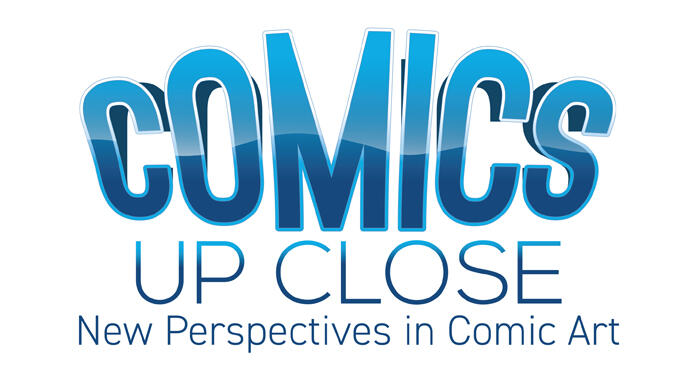 Comics Can Change The World - How comics are delivering positive change in education and society
Friday 15 October
10.00am - 4.30pm
Screen 2, Brewery Arts Centre, Kendal
Tickets: £10 (free with Weekend Festival Pass - registration required)
The theme for 2021 is Comics Can Change the World.
We will bring together leading international academics, creators and comic advocates from across the globe, to explore how comics are in the vanguard of delivering social change.
Presentations will include the role comics are playing in public health messaging, improving attainment in primary education, the empowerment of indigenous communities across the globe and the health and wellbeing of young people.
Confirmed speakers include…
Comics Up Close – the deep dive into the world of comics for academics, creatives and the general reader who wants to learn more about the latest thinking in comics welcomes the following presenters and guests…
Andrea Aramburu-Villavisencio, Rich Charlesworth, Dr Anna Feigenbaum, Nicole Furtando, Andrew Humphreys, Helen Jones, Dr Nataša Lacković, Prof Andrew Miles, Olivier Kugler, Marisol Rodriguez, Richard Ruddick, Rowena Singleton, Dr Joe Sutliffe Sanders, Dr Andrew Tate and Dr Eleni Tsampra.
Programme
/////
Changing Communities Across Europe
10.05am - 10.40am
Professor Andrew Miles School of Social Sciences, University of Manchester & Rowena Singleton, Head of Research, Comic Art Europe Research Project
Four projects from across Europe using comics to improve educational attainment. The speakers will report in particular on year one activity at Abraham Moss Primary School, Manchester where comics are being used to improve enjoyment of reading and the findings of rigorous research to chart the impact of the programme.
/////
Comics and Public Health Messaging
10.40am - 11.10am
Dr Anna Feigenbaum, Department of Communication and Journalism, Bournemouth University
Dr. Alexandra Alberda, Research Illustrator
Minute Works design studio
From slice-of-life diary pieces to public health guidance, comics artists are using online platforms to share information on COVID-19. In this presentation we offer insights from our AHRC funded COVID-19 project that looked at over 15,000 Instagram webcomics shared during the pandemic. Showcasing examples of best practice, we explore how comics can help get public health messages to reach wider audiences, make information more accessible and even change people's hearts and minds.
/////
Things and the Mind: the world's first interactive digital comic on student mental health
11.30am - 12.00pm
Dr Nataša Lacković, Dept of Educational Research, Lancaster University TBC
In this session, Dr Nataša Lacković presents an interactive digital comic co-created with students on their lived experiences of mental health, considering the potential and challenges of applied comics in mental health and student mental health in particular. The session will also consider the co-development of digital and interactive comics from socio-material, material engagement and new material perspectives, as a novel area of digital and medical humanities.
/////
The Great British Fish & Chip Exhibition
12.00pm - 12.20pm
Andrew Humphreys and Olivier Kugler
A project to chart the history and impact of this great British dish, through innovative display techniques.
/////
Comics in the Classroom
2pm - 2.45pm
Helen Jones, Lecturer in Primary Education, UCL Institute of Education, Dept Leadership & Learning, UCL
The superpower of comics in the classroom is a pedagogical tool waiting to be unleashed! In this talk Richard Ruddick, Rich Charlesworth and Helen Jones reveal their passion for comics in the primary school, share practical ideas for teaching and discuss the impact comics have on children's reading for pleasure, empathy and development as authors and comic creators.
/////
Comics for inclusive language, sustainability and learning: in conversation with Eleni Tsampra
3.15pm - 3.40pm
Dr Eleni Tsampra in conversation with Dr Nataša Lacković
In this session, Eleni Tsampra, an artist-academic will be in conversation with the session host Dr Nataša Lacković about her recent work on two projects: 1) CIELL, a multinational project led by Lancaster University (PI: Dr Julie-Ann Sime) that developed comics for the purpose of inclusive English language learning, exploring UN sustainable development goals, and 2) a biographic graphic novel about Galileo Galilei, a prominent Italian astronomer, physicist and engineer.
/////
Comics that Break Boundaries
3.40pm - 4.20pm
Dr Joe Sutliffe Sanders, Faculty of Education, Cambridge University, Marisol Rodriguez, Andrea Aramburu-Villavisencio and Nicole Furtado
Past, Present, & Future Reimaginings. Indigenous communities and the Global South: a presentation and panel discussion exploring the role of comics in strengthening cultural identity across the global south.
Register for Comics Up Close today!
The Lakes International Comic Art Festival presents Comics Up Close in partnership with Lancaster University and ReOpen