Saturday, 16 October, 2021 - 15:30
As part of this year's International Festival focus, and in partnership with the Czech Literary Centre, we're delighted to introduce you to five leading lights in the world of comic art from the Czech Republic.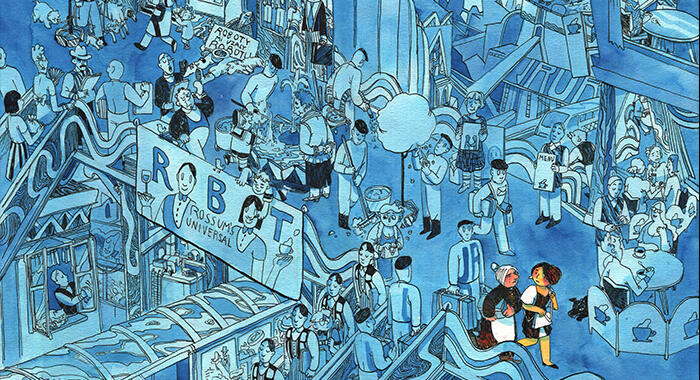 Artwork by Kateřina Čupová
Artwork by Lucie Lomová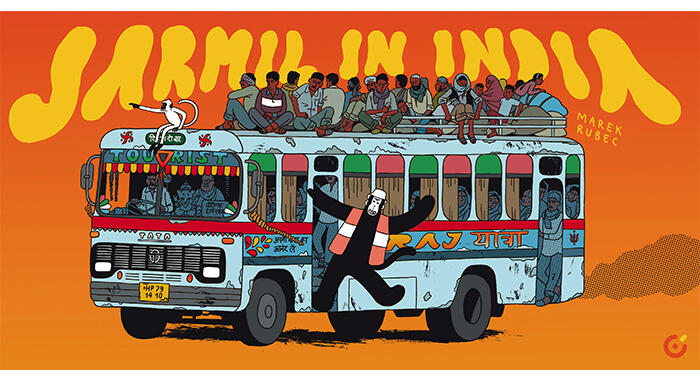 Jarmil in India artwork by Marek Rubec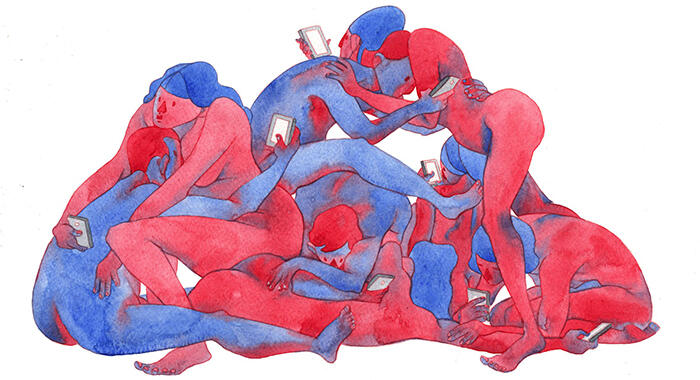 Lost in Connection artwork by Štěpánka Jislová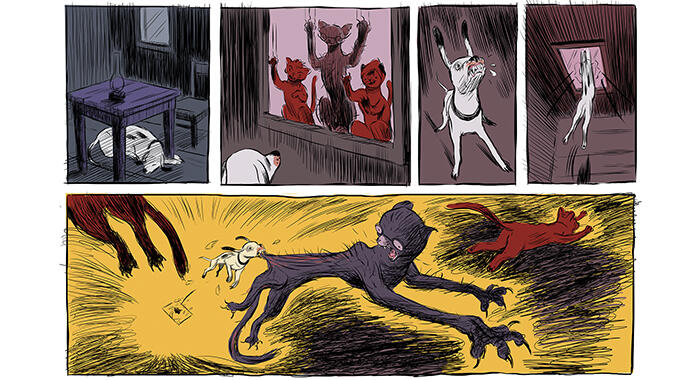 Artwork by Václav Šlajch
Saturday 16 October
3.30pm - 5pm
Warehouse, Brewery Arts Centre, Kendal
>> Kateřina Čupová - studied animation at Tomas Bata University in Zlín. Her early stories were strongly inspired by Japanese manga and she won the Muriel Award for best short comic for her work Kašna (Fountain). In 2020 she published her graphic novel debut, an adaptation of Karel Čapek's drama R.U.R.
>> Lucie Lomová - made her name with her poetic series about two mouse friends, Annie and Joey, which was published throughout the 1990s. The stories have been published as collected volumes, translated into Spanish and Catalan, adapted for theatre as well as television, and represent one of the most beloved Czech children's comics of recent decades. However, after 2000 Lucie began to turn her attention towards adult readers with adaptations of national fairy tales, which have been published in many different languages, and in her subsequent comic books she narrates historical, detective and everyday stories.
>> Marek Rubec - is one of several artists from the Czech comics scene drawing on the tradition of Czech animation. For Rubec, animated film represents just one part of the kaleidoscope of artistic activities he makes a living from, although at this stage of his creative development his main focus is comics. Marek created the recurring character of Jarmil, an ape living among humans, who are usually less alarmed by his hairy appearance than they are by his reluctance to adhere to the written and unwritten rules of civilization.
>> Štěpánka Jislová - is a young artist who, together with Tereza Drahoňovská, is actively involved in the Czech branch of the Laydeez Do Comics group.  Her Master degree comic The Wyrd (2018), which she wrote and illustrated based on a story by Meghan Kemp-Gee, examines the tale of Macbeth through the story of the three witches. In 2020, Štěpánka Jislová's graphic novel Hairless appeared. The story was written by Tereza Drahoňovská who based the script on her own experiences with the autoimmune disease alopecia.
>> Václav Šlajch - is a comic book artist and illustrator who studied at the Ladislav Sutnar Faculty of Design and Art in Pilsen. As an artist, he belongs to what has come to be called Generation 0 of Czech comics (together with artists such as Jiří Grus, ToyBox and Vladimír 518). In 2010, he received the prestigious Muriel comic book award in the Czech Republic. In addition to creating comics and illustrations, Václav Šlajch is head of the Media and Didactic Illustration Atelier at the Ladislav Sutnar Faculty of Design and Art.
 
With a mix of discussion and presentations on Czech comic art, Paul Gravett will introduce you to their fascinating body of work.
In partnership with the Czech Literary Centre.