We are delighted to invite exhibitors to the 9th Lakes International Comic Art Festival in Kendal this October!
The Comics Clock Tower at Kendal Town Hall for LICAF 2018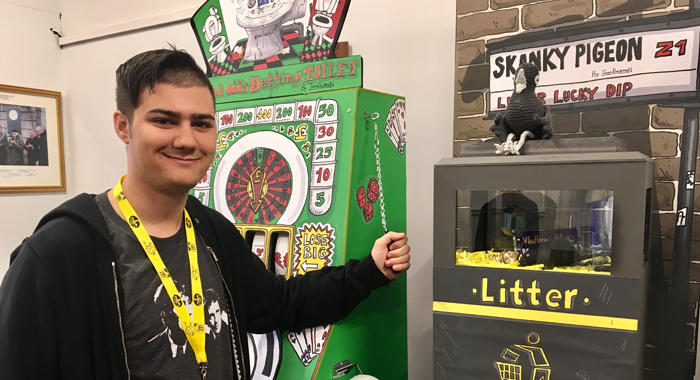 Zoom Rockman and the incredible Skanky Pigeon Arcade in the Comics Clock Tower during LICAF 2018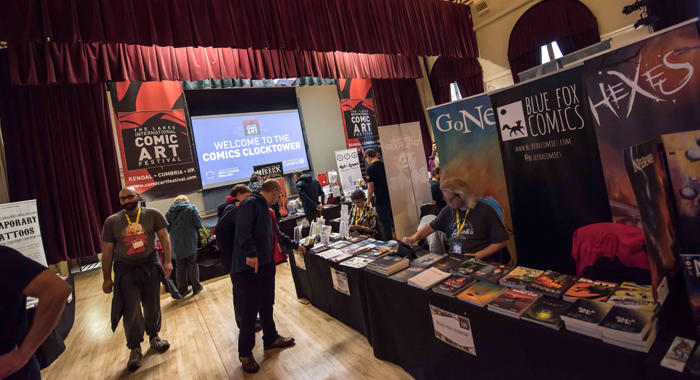 The Comics Clock Tower at Kendal Town Hall for LICAF 2018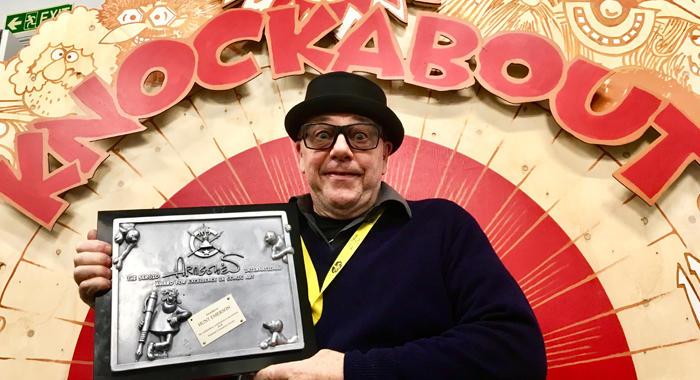 Hunt Emerson with his Sergio Aragonés International Award for Excellence in Comic Art in the Comics Clock Tower 2018
The Comics Clock Tower at Kendal Town Hall
This year's Festival will run from Friday 15 to Sunday 17 October 2021, with the Comics Clock Tower open as usual on the Saturday and Sunday.
The Comics Clock Tower, in Kendal's beautiful and historic Town Hall, is the area akin to a traditional market place and artists' alley… but with our own unique LICAF twist!
We are very excited about the prospect of a live festival, and we're currently very optimistic about the option of running an actual Comics Clock Tower, but please note, should the coronavirus situation cause us to have to change our plans, we have a fantastic Virtual Comics Clock Tower where our exhibitors will be able to feature free of charge. 
We will be announcing our decision to go live, or virtual in May 2021, and no payment will be requested before this decision has been taken.
This year we are offering full tables at £100 and half tables at £50 – we cannot offer shared tables this year.
And rest assured that in the event we do go ahead, we will take every measure to ensure our staff, volunteers, exhibitors and the public are safe. 
If you would like to join us at this year's Lakes International Comic Art Festival, please download the application form and Terms & Conditions below
It is absolutely our priority to ensure that the Comics Clock Tower represents the full brilliance and diversity of comic art, so rather than fill the space on a first-come-first-served basis, we will carefully select our exhibitors to create, we hope, the most interesting, high-quality and exciting offer for our festival audience, one that sits perfectly within the wider festival programme.
Please email your completed application form to Carole to arrive no later than 5.00pm on Friday 26 March 2021.