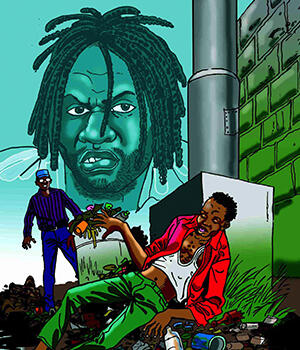 Albert Luba Ntolila
A graduate of the Academy of Fine Arts in Kinshasa, Albert Luba Ntolila began his career in the Ninth Art in 1989, in the monthly Le Sport africaine, illustrating "Ndaye", the story of a blessed striker.
In 1991, he participated with Roger Beley and Fifi Mukuna in the creation of the monthly comic strip, Évasions, published by Le manager.
Three years later, he released his first album (on a screenplay by Nlandu Mayamba, with Roger Beley as co-author), a political awareness work entitled People in action: Zaire, free and democratic elections, edited by the Amos Group.
A version in Swahili (Raia katika maendeleo: Zaïre uchaguzi huru na wa kidemokrasi) and one in Tshiluba (Bena ditunga mbadiele ngoma: Zaire masungula a mu budisuile ne budikadile bua Bantu) are being published in parallel.
From 1996 to 2002, Albert worked for the educational magazine BD Bleu blanc, created and edited by Kizito Muanda.
Then, in 1996, he participated in two collective comic projects. The first, Le Retour du crayon noir, was supported by the Center Wallonie-Bruxelles in Kinshasa, while the second emerged from a competition organised by the non-profit organisation Ti Suka, who released a collective album, A Dinner in Kinshasa, revealing the artists of tomorrow.
This was followed by art on several local comic strip magazines, Fula Ngenge (1999-2001) and Nkento (2001 to 2003).
Subsequently, he published legal awareness-raising comics with the Belgian NGO RCN – Justice et Démocratie, including Who Owns the Land?, written by Me Guillain Malère, and Mabongisi mpe makoki ya misala mya bosembo o mboka na biso, written by Eugène Mukala).
His work has also featured in constitutional and election campaigns, on awareness-raising posters and as comics.
After having been a member of the Média BD association, he founded, with others, the Kin Label association, one of several creators who contributed to the collective comic album, Là-bas… Na poto, published in 2007, working with Faux Départ.
In 2009, he participated in the Algerian collective album, La comic book tale Africa, published by Dalimen Éditions, and his work appeared in the collection 50 years of independence 100 caricatures. published by the Lille School of Journalism in 2010.
In 2008, he created, with other artists, the association A.b.Communication, which he chairs, which publishes the magazine Fara fara, which has also featured his work.
Albert Luba Ntolila Onine