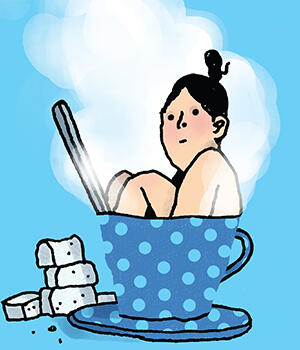 Alice VDM
Alice VDM is a cartoonist and illustrator.
Éditions Sarbacane published her first graphic novel, the powerful, thought-provoking "Ma vie sans Billie" in 2022.
Alice went on to win the Raymond Leblanc prize with Cyril Legrais, for their story "Les oies cendrées". They were awarded a prize of €10,000 in cash, a €10,000 advance and a publishing contract alternating between Editions du Lombard and Editions Futuropolis, who will publish the story.
The judges described their story as dealing with "a delicate subject treated with sensitivity and tenderness… A love story between two men with a significant age difference is not commonplace in usual comic strip representations. 
"The simple fact of featuring an older 'hero' is not common. The strength of this project lies not only in the fact that it shatters taboos ([such as] the sexuality of senior citizens, homosexuality) but also in the fact that it creates a beautiful story, enhanced by elegant cutting, which will soften the hardest hearts."
She regularly publishes in magazines such as Kronikas or Philéas and Autobulles.
Alice VDM Online
Web: alicevdm8.wixsite.com
Instagram: @alicevdm_