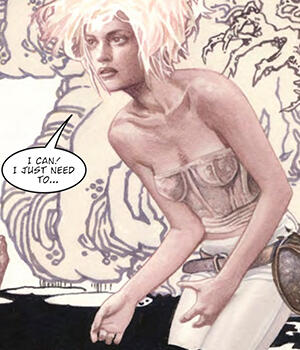 Annie Parkhouse
Annie Parkhouse - née Halfelven - was born on the south coast of England to a lobster fisherman and a lobster fisherman's fishwife.
Annie's mother had been a disciple of Madame Blavatsky in the late 1930s and taught her young daughter how to read the cards and summon dolphins.
During her teens, Annie would spend hours by coastal pools, combing her long blonde tresses while ululating a siren song, laughing merrily as ships foundered on the jagged rocks that fringed the Sussex coast.
Gravitating towards the nation's capital in 1970 she procured work in the publishing industry as a bodger's mate and part-time psychic.
With her quick wit and deft handwork, she soon became a full-time bodger, securing the approval of her senior editors.
As the juvenile market declined, she left to go freelance, but not before winning the affections of Wilbur Rankin, who by that time was masquerading as Stephen J. Parkhouse - a purveyor of taglines, toplines and Christmas cracker jokes.
Their personalities meshed perfectly and before long they set up a business in Carlisle in the north of England, compiling secondhand comic titles featuring used superheroes for clients like Marvel UK.
Annie is now widely regarded as a legend in the comics world, having devised her own personal font which is much admired by artists who never leave enough space.
They know who they are.
Annie Parkhouse Online
Web: en.wikipedia.org/wiki/Annie_Parkhouse