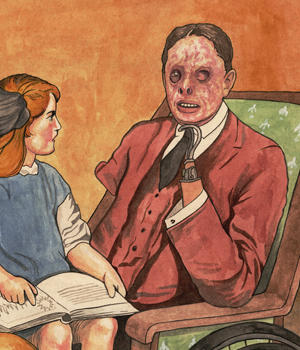 Darren Cullen
Darren Cullen is a satirical artist, illustrator and writer, born in Leeds to Irish parents and currently based in London.
Cullen initially thought he would go into advertising as a career, studying it at Leeds College of Art where he learned the language and techniques of the medium but became steadily horrified at the ethical implications involved.
Claiming that "manipulating the desires and aspirations of the public, and especially children, using an arsenal of sophisticated and emotionally damaging psychological techniques is an appalling way to make a living and an even worse way to sustain an economy."
Cullen abandoned advertising to study Fine Art at Glasgow School of Art.
He now uses the language of advertising to make work about the empty promises of consumerism and the lies of military recruiters.
Releasing his first comic, an anti-army recruitment booklet sarcastically called 'Join the Army' in 2013 (bethemeat.co.uk).
As well as 'Pocket Money Loans', Cullen recently wrote a series of short films called 'Action Man: Battlefield Casualties' to draw attention to the way the Ministry of Defence targets children as young as five with its official toy range, 'HM Armed Forces', which includes an RAF Drone Playset.
Cullen says he is, "especially interested in the point where the terrible requirements of our system collide with the innocence of childhood. Children's play, like every other aspect of human life, has been colonised by capitalism, adapted as it is into a sort of childhood training camp for the hard-working consumers and soldiers of tomorrow."
Darren Cullen Online
Web: www.spellingmistakescostlives.com
Twitter: @darren_cullen
Instagram: @spellingmistakescostlives
Facebook
Tumblr
Youtube