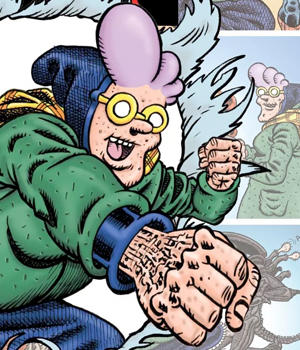 David Leach
David Leach's career as a cartoonist, writer and editor spans over 30 years beginning in 1986 when he started working as Bob Godfrey's ghost artist on Henry's Cat.
During his subsequent career he's worked for IPC, Marvel UK, Marvel US, BBC Worldwide, Panini, Egmont, Tundra, and Fleetway.
His work has appeared in: Whizzer & Chips, Gas, Brain Damage, UT, Moose Kid, Casper, The Toxic Crusaders and 1980's cult British comics, Toxic! and Oink!, as well as The Sunday Times, The Daily Telegraph, The Sun and Private Eye.
He created Psycho Gran for Oink!, Arthur Pilkington: Chartered Barbarian for Gas, The Dinner Ladies from Hell and The Driver, (which he co-created) for the cult 1991 UK comic Toxic! He also co-wrote and drew The Toxic Crusaders #8 for Marvel US.
After working as an editor for eight years he retrained as an animator in 2001 and spent the next six years working for Codemasters, and as a storyboard artist and development producer for the CHASE animation company.
In 2008 he joined Titan Books as the Graphic Novel Editor editing classic titles like Roy of the Rovers, Jane, Betty Boop, Flash Gordon, Dan Dare, Mandrake the Magician, Best of Battle, Tank Girl and Lenore before moving to the Titan Comics to edit and write for the SpongBob SquarePants and Adventure Time comic magazines, the Wallace and Gromit daily newspaper strip for the The Sun newspaper, and Titan's new range of newsstand comic titles including The Blacklist, Fighting American, Hammer Horror: The Mummy & Captain Kronos, Dan Dare, Anno Dracula: 5 Days of Mayhem, SuperMansion and the critically acclaimed new series of The Prisoner: The Uncertainty Machine.
In 2011 he brought Psycho Gran out of retirement to appear in David Lloyd's Aces Weekly digital comic and her own comic, published by Dead Universe Comics.
In 2013 David co-won Channel Four's Come Dine With Me.
In 2018 David was promoted to Senior Creative Editor and is currently working on new titles including Blade Runner 2019 and an adaptation of Sir Andrew Lloyd-Webber's Phantom of the Opera.
He lives in High Wycombe with his wife and two children.
David Leach Online
Twitter: @davidleach2000