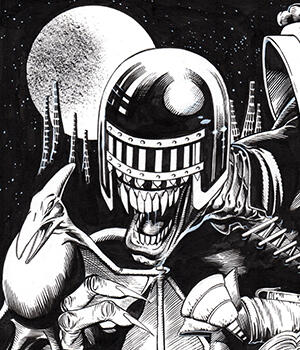 David A Roach
David A Roach was born in Cardiff in 1965 and from an early age was consumed with a passion for drawing and writing and developed an insatiable love for comics.
After studying Fine Art and Philosophy in Art College he joined the Galaxy's Greatest Comic; 2000AD where he drew Judge Anderson, Judge Dredd and Nemesis The Warlock.
With American comics welcoming British creators in the '90s he drew and inked numerous series' for DC (Batman, Star Trek), Dark Horse (Aliens, Star Wars) Topps (Cadillacs and Dinosaurs) and Dynamite (Vampirella).  
For many years David has also provided illustrations for advertising, records and role-playing including the popular Dungeons and Dragons series.
As a writer he has contributed to numerous art and comic magazines and has written or contributed to almost 30 books including The Warren Companion (Twomorrows), The Art of War (Carlton), Lifestyle Illustrations of the 50s and 60s (Fiell), The Art of Jose Gonzalez, Masters of Spanish Comic Book Art and the Art of Vampirella (all for Dynamite).
His latest book; Masters of British Comic Art was published by Rebellion in 2020 and he is currently working on three more books for the company.
In recent years David has diversified into storyboards and games working on the Warhammer movie, and the Dr Who Infinity computer game.
In 2000 he returned to British comics working on Dr Who for Panini comics and numerous strips for 2000AD including his latest series Saphir and the Misty Christmas special, along with a mountain of commissions for fans.
In parallel with his comic career he also works in fine art and is looking forward to his first solo exhibition and a long awaited book of drawings.
He has curated and participated in group exhibitions in the UK and Poland and has been a keynote speaker at academic conferences.
He still lives and works in Cardiff where he shares a house with more books, comics and magazines than is entirely sensible. He occasionally sleeps.
David A Roach Online
Web: wikipedia.org/wiki/David_Roach_(comics)
Twitter: @davidaroach
David will be joining us via a livestreaming event during the Festival weekend