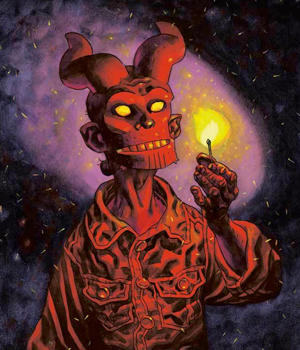 Duncan Fegredo
Much more than "just" Hellboy artist, Duncan is described by his peers as "the artists' artist" - we urge you to find out why!
Duncan Fegredo is best known for his collaborations with Mike Mignola on Mignola's iconic Hellboy. Books include Darkness Calls, The Wild Hunt, The Storm & The Fury and The Midnight Circus, all published by Dark Horse Comics.
Earlier significant works include Enigma with writer Peter Milligan (Vertigo), Jay & Silent Bob with writer/director Kevin Smith and more recently MPH with writer and iconoclast Mark Millar (Image books).
A step outside comics saw Fegredo work as lead storyboard artist on Darren Aronofsky's NOAH movie, and more recently contributed storyboards to Rogue One: A Star Wars Story.
Fegredo is currently working on a number of covers and looking forward to the recently announced Hellboy: Rise of the Blood Queen. To be directed by Neil Marshall, this will be an adaptation of Hellboy: The Wild Hunt.
DUNCAN FEGREDO ONLINE
Web: www.duncanfegredo.co.uk
Twitter: @duncanfegredo
YouTube