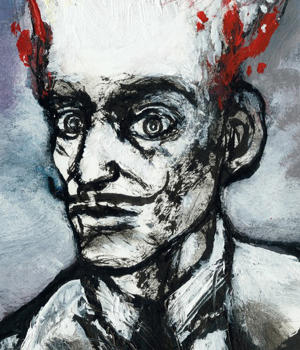 Edmond Baudoin
Born 23 April 1942 in Nice, Edmond Baudoin abandoned the monotonous career of a chief accountant to dedicate himself to more creative and artistic endeavours.
He slipped his first short comic-strip stories into Le Canard Sauvage in 1974 and subsequently into Circus, Pilote and L'Echo des Savanes. His first album, a collection of some of these early experimental works entitled Civilisation, was published by Glénat in 1981.
Refining his impressionistic and suggestive graphism, he then published a series of ground-breaking works with Futuropolis: Les sentiers cimentés (1981), Passe le temps (1982), La peau du lézard (1983), Un flip coca (1984), Un rubis sur les lèvres (1986), Le premier voyage (1987), Le Portrait (1990), Couma Aco (1991).
When this publisher was taken over by Gallimard and limited itself to highlighting literary texts, he illustrated works by Le Clézio, Tahar Ben Jelloun and Jean Genet.
Scriptwriter Frank Reichert collaborated with Baudoin from 1984 to 1988 on a series of stories that were prepublished in Chic, Zoulou and Metal Aventures, before being collected into albums: La danse devant le buffet (Futuropolis, 1985), Avis de recherche (Futuropolis, 1985), Théâtre d'ombres (Humanoïdes Associés, 1987) and La Croisée (Humanoïdes Associés, 1988).
At the same time, Baudoin was also working with Jacques Lob. Together they produced two strips for the monthly A Suivre: Intérieur Noir (1986) and Carla (1988, published as an album by Futuropolis in 1993).
The artist then turned to the small alternative companies that were beginning to blossom alongside the traditional publishing industry: Z'Editions (La mort du peintre in 1995, along with a few illustrated books), Autrement (contributions to L'Argent roi in 1994), Apogée (La diagonale des jours, based on a script by Dohollan in 1995), L'Association (Eloge de la poussière in 1995, then Nam, Made in U.S., Le voyage, etc ).
Le Voyage won the Alph'Art for best script at Angoulême in January 1997.
Constantly exploring the relationship between an artist and his work, Edmond Baudoin is an intimate and strongly autobiographical storyteller.
Les Yeux dans le mur, the first of his works that he coloured for the Collection Aire Libre and one that he composed in collaboration with a young admirer and model, Céline Wagner, is a perfect illustration of this characteristic.
Edmond Baudoin's Dalí, a graphic biography of the great surrealist painter, is published in English by SelfMadeHero (October 2016).
Edmond Baudoin Online