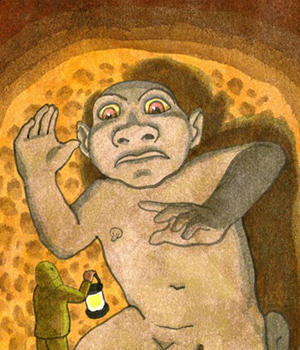 Edward Taylor
Edward Taylor is best known for his work with the Whalley Range All Stars who were regular visitors to Kendal's MintFest.
You may remember a huge pig, a giant plant growing out the window of a disused shop in Elephant's yard or a bad-tempered compost heap on the main street.
Their shows all start life as a long series of drawings which get turned into 3-D performances with real people and eye-catching props.
LICAF 2019 gives an opportunity for the drawings to take centre-stage.
Below the Ground Beneath our Feet is a set of drawings featuring Godzilla attempting to hibernate in his underground cavern. The problem being that he's not the only one below the ground.
There are underground rivers, rivers of oil, rivers of lava, fatbergs, the Chinese terracotta army, King Arthur's Knights of the Templar and the living dead.
From time to time things get a bit restless with unforeseen collisions of all these elements.
This exhibition relates to a kamishibai show ( translation: paper theatre ) which will be presented during the Lakes International Comic Art Festival in October and a small booklet that will be on sale.
Edward Taylor Online
Web: www.wras.org.uk