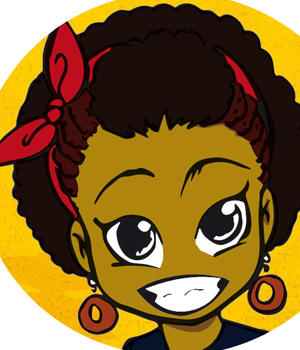 Elyon's
Born in 1982 in Baffousam, Cameroon, Elyon's is the founder of Bilili BD Festival, the first festival dedicated to comics in the Republic of Congo.
With a degree in Modern Literature and a degree in Graphic, Visual and Spacial Arts, Elyon's is also a stand-up comedian in the "Valery Ndongo Comedy Club".
Her comic books have been published in Cameroon, Lebanon, Canada, France, Algeria, Germany, Brazil and Belgium.
Elyon's first comic series "The Diary of Ebène Duta"/ "La Vie d"Ebène Duta" was financed through €15,000 web crowdfunding. Three volumes of the series have been published so far.
Elyon's Online