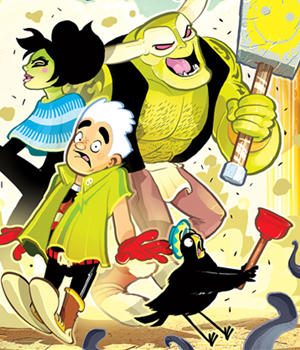 The Etherington Brothers
You won't find a more energetic and inspiring duo than Lorenzo and Robin, aka The Etherington Brothers, dedicated to inspiring young people to follow their comic art dreams through their comics and unique interactive shows and, at the same time, being premier league artists and writers.
The Etherington Brothers have been making all-ages comic adventures for over a decade, and are the creators of Long Gone Don, Monkey Nuts, Freaky and Fearless, Baggage, and Von Doogan.
They have also created comics, stories and art for Star Wars, How to Train Your Dragon, Transformers, Kung Fu Panda, Wallace & Gromit and James Bond.
The brothers have toured the world performing sold out shows on creativity and storytelling. Using their unique blend of humour, improvisation and enthusiasm, they have empowered hundreds of thousands of children to take their first creative steps into the greatest storytelling medium on earth - COMICS!
THE ETHERINGTON BROTHERS ONLINE
Web: etheringtonbrosportfolio.blogspot.co.uk
Twitter: @EtheringtonBros
Instagram