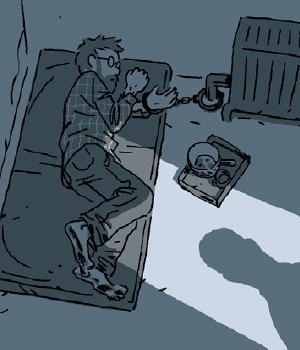 Guy Delisle
Guy Delisle is a Canadian animator and comics artist.
In 1994, he made his first short, Trois petits chats, which piqued fellow filmmaker Michael Dudok de Wit's interest. Dudok de Wit asked Delisle to collaborate on his film Le moine et le poisson, which won the César for best short film in 1995.
In 2000, Delisle published Shenzhen, a graphic travelogue about his time working at an animation studio in the eponymous Chinese city. After that, more travelogues followed: Pyongyang, Burma Chronicles and Jerusalem, for the latter title, he won the award for Best Album at the 2012 Angoulême festival.
From 2013 onward, he published his three part 'A User's Guide to Bad Parenting', based upon his own experiences as a father. His latest book, Hostage, is the true story of Christophe André, who was taken hostage while working for an NGO in the Caucasus in the 1990s.
Guy Delisle Online
Web: www.guydelisle.com
Twitter: @guy_delisle