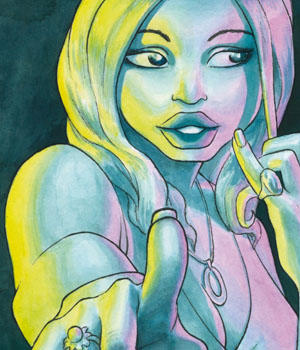 Hannah Berry
Comic creatrix extraordinaire, podcaster and satiricist Hannah Berry is the new UK Comics Laureate 2019-2021.
Hannah Berry is a comics creator, writer, illustrator and podcaster and author of the horrifyingly-prescient media satire, Livestock, published by Jonathan Cape. This is her third graphic novel after the critically acclaimed Adamtine and Britten & Brülightly, which was translated into four different languages and chosen as part of the official selection at Angoulême in 2010.
She does a weekly cartoon strip for the New Statesman and is one half of the podcast No YOU Hang Up with Dan Berry (probably no relation). She has been part of numerous collaborative projects, arts festivals and exhibitions all around the world.
HANNAH BERRY ONLINE
Web: hannahberry.co.uk
Twitter: @streakofpith